Modern Dormitory Buildings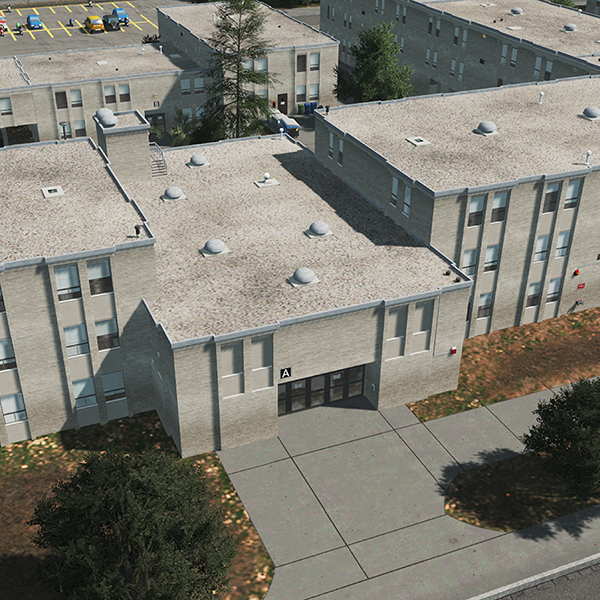 Description
A set of nine
ploppable
, modular buildings. They're based on dormitory buildings constructed in the 60s/70s for a (now-decommissioned) military installation.
They are very plain in appearance and this makes them suitable for many other uses: universities, research institutes, local government offices, TV stations, community hospitals, correctional facilities, etc.
They have been organized into three different 'blocks' by type: A block (wide buildings), B block (slightly less wide) and C block (bridge/breezeway).
-----------------------------------------
All are freely placeable without a road connection. This gives more flexibility for working with terrain or making sunken structures.
In keeping with their generic nature, they don't actually serve any purpose in game and are decorative only. If you want them to function as a residential building, office, etc, then you can
make your own definitions
for
Ploppable RICO
mod or modify them with the asset editor.
The lots (4x2 and 3x2) are empty and only a few props are used for lights and roof details.
If you want to build something like in the screenshots then you need to move the buildings into place and add props and surface details. Mods like like
Find It!
/
Move It!
are essential.
-----------------------------------------
(output from
Mesh Info
mod)
Every model shares the same set of 1024x1024 textures. LODs have unique 128x128 maps.
I highly recommend using
Loading Screen Mod
which should load the shared textures only once. This reduces the memory used by these assets to somewhere around
4mb intstead of 22mb
!
-----------------------------------------
If you find my assets useful and want to show support you can donate with PayPal - thanks!
[www.paypal.me]
Created by
Download
Start automatically in 5 seconds
Click

here

if its not start automatically
Details
| | |
| --- | --- |
| Size | 22.060 MB |
| Posted | 5 May @ 12:18pm |
| Updated | 15 May @ 1:51am |
| | |
| --- | --- |
| 18,600 | Viewed |
| 10,556 | Downloaded |
| 359 | Favorites |