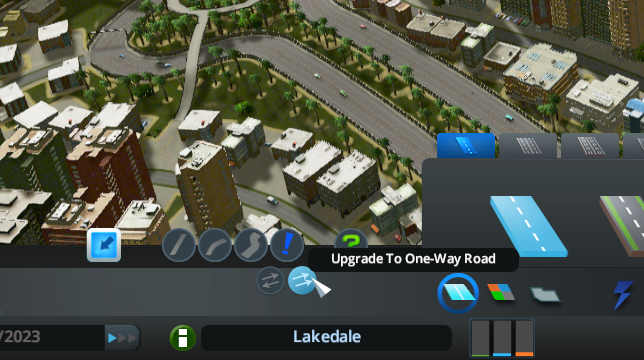 Description
Updated for the After Dark and Snowfall expansions!
NOTE: This mod was originally created before the ability to upgrade between one- and two-way roads was added into the game itself, so it is no longer essential, but it's available for those who prefer its functionality over the standard upgrade tool.
The mod adds two new road building tools that allow you to upgrade between one- and two-way roads and to change one-way road directions.
To set one-way road direction, just click and drag to the direction you want the road to go.
The roads are always converted to the same type counterparts, so it does not matter which road type you have selected in the road tool. This also means that it is not possible to directly convert a 4-lane road to a one-way road, because there is no 4-lane one-way road type in the game. Instead you must first upgrade the road to a 2- or 6-lane road and then convert it to a one-way road.
Full source code is available at:
https://github.com/viakmaky/Skylines-ExtendedRoadUpgrade
Created by
Download
Start automatically in 5 seconds
Click

here

if its not start automatically
Details
| | |
| --- | --- |
| Size | 0.030 MB |
| Posted | 3 Apr, 2015 @ 11:03pm |
| Updated | 20 Feb, 2016 @ 12:54am |
| | |
| --- | --- |
| 642,603 | Viewed |
| 226,923 | Downloaded |
| 4,727 | Favorites |