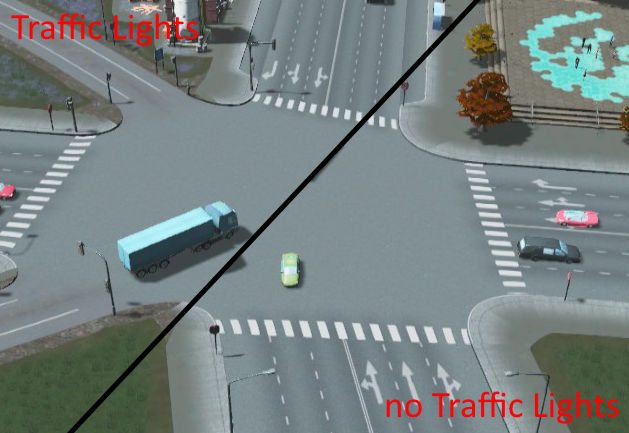 Description
Tool to remove or add traffic lights at junctions. With Cities:Skylines patch
1.7.0 (Mass Transit)
[forum.paradoxplaza.com]
that functionality was directly included into the game. But Toggle Traffic Lights provides functions beyond of C:S:
Access the Junction Tool directly from the Roads Menu.

Activate and Deactivate the Junction Tool everywhere. Disabling the Intersection Tool restores the previous used tool.

Remove (or add or reset) all traffic lights at once.
A more detailed description can be found on GitHub:
https://github.com/Craxy/ToggleTrafficLights
Usage
Enable
Junction tool
via:
Button in roads menu.

Ctrl+T. Opens Roads Menu.

Ctrl+Shiftt++T. Keeps current location. Remembers current tool and restores it when you press the shortcut again.

Ctrl+Alt+T. Opens Traffic Routes Junctions Info View. Remembers current tool.
Use the Elevation keys (
PageUp
and
PageDown
) to change the view: Overground, Overground with tunnels visible, Underground (Info View, everything's painted in white). Doesn't work with the built-in C:S Traffic Routes Junction tool (Ctrl+Alt+T). This uses the default C:S tool without changes.
Batch commands
:
Located in the (C:S built-in) Traffic Routes Junctions Info Window. Besides opening that window via the Info View Menu on the top left you can use the shortcut
Ctrl+Alt+T
(see above) or right click on the TTL button in the roads menu.
Disable Traffic Lights
:
When the checkbox is checked new junctions are always created without traffic lights.
Existing Traffic Lights aren't touched by this option. Neither does it prevent manual toggling of traffic lights. All it does is ensure all newly created junctions don't have traffic lights.
The Setting is located in the Traffic Routes Junctions Info Tab.
Note
:This is set on a per savegame basis and is not a global setting! That means you can play one map with this option enabled (-> no traffic lights for new junctions), while on another map you use the default C:S behavior.
Note
: Previous saved traffic lights via TTL (prior to Mass Transit patch) are discarded. The new version uses the C:S built-in way to save Traffic Lights.
Change Notes:
https://sanduy.io/filedetails/changelog/411833858
and
https://github.com/Craxy/ToggleTrafficLights/releases
Please report issues (and suggestions) on
https://github.com/Craxy/ToggleTrafficLights/issues
Source code:
https://github.com/Craxy/ToggleTrafficLights
Created by
Download
Start automatically in 5 seconds
Click

here

if its not start automatically
Details
| | |
| --- | --- |
| Size | 0.113 MB |
| Posted | 12 Apr, 2015 @ 13:26pm |
| Updated | 26 May @ 10:52pm |
| | |
| --- | --- |
| 478,436 | Viewed |
| 267,590 | Downloaded |
| 5,302 | Favorites |