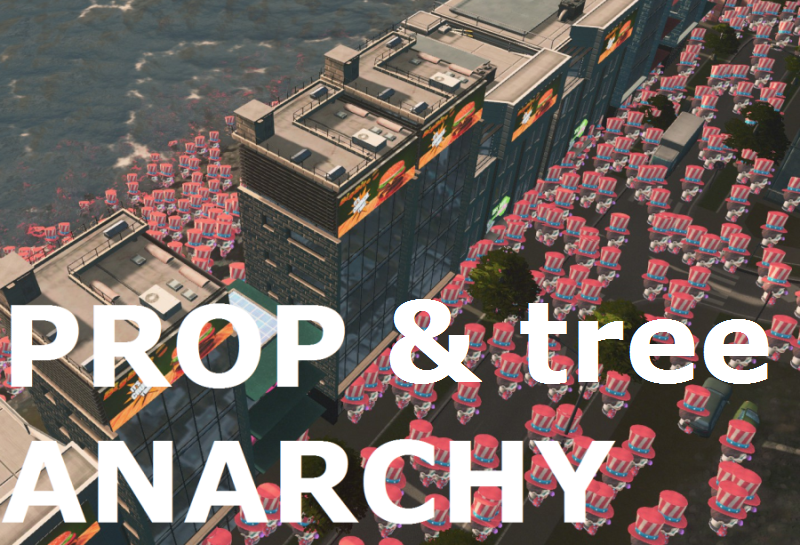 Description
Place props & trees wherever you like
With this mod enabled you can place props & trees:
- under water
- on roads
- within building's footprint
This is useful when placing props with
More Beautification
mod. I also recommend to use
Prop Snapping
to snap props to buildings and elevated roads, like in asset editor (as well as its sibling,
Tree Snapping
).
Useful tip
This mod is also helps to load maps with missing tree or prop assets because it fixes buggy code of Cities: Skylines that causes errors on loading when some required trees or props are missing.
Use Shift+P (or Alt +P, or Ctrl+P - you can change that in options) key combination to toggle anarchy. This mod provides an options entry (see screenshot).
Please note that if anarchy is set to always on bulldoze trees before zoning areas that have trees if you don't wont them to grow through growables. Follow
this guide by @sweetmanp
[i.imgur.com]
to massively erase trees with
Extra Landscaping Tools
mod
If you need to use tree brush on steep slopes use my
No Tree Brush Slope Limit
mod.
Props Anarchy can be safely disabled at any time. But most props and tree you placed with this mod will become hidden eventually without this mod enabled.
If you need road or building anarchy (that includes so-called 'concrete brushes' a.k.a. fillers), use
Sharp Junction Angles
mod.
Latest update:
UPDATE 8 (10/20/2017)Added:
Korean translation (thanks to ToothlessFLY).
This mod uses awesome
detours C# library
[github.com]
by
cope
. Without it, this mod would've been impossible to make.
GitHub repository
[github.com]
Feel free to comment
Note:
if you have any errors/exceptions, please, don't paste them or output_log.txt into comments. Use pastebin, dropbox or whatever. Please make sure that this mod is activated before submitting your reports.
If you like this mod and/or want to support me you can donate here:
[www.paypal.com]
You don't have a PayPal account? You can use link in 'Don't have a PayPal account?' section at the bottom of donation page to donate using your credit card information.
Created by
Download
Start automatically in 5 seconds
Click

here

if its not start automatically
Details
| | |
| --- | --- |
| Size | 0.893 MB |
| Posted | 5 Jan, 2016 @ 8:23pm |
| Updated | 20 Oct, 2017 @ 13:24pm |
| | |
| --- | --- |
| 475,600 | Viewed |
| 532,104 | Downloaded |
| 12,309 | Favorites |