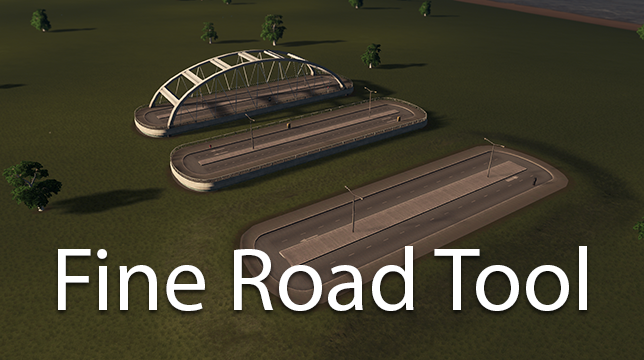 Description
Compatible with Cities Skylines 1.10.0-f3 (Park Life)
This mod allow you to set finer road elevation steps and also provides different building modes.
Mod Options
- Reduce rail catenary masts: Reduce the number of catenary mast of rail lines from 3 to 1 per segment.
- Change max turn angle for more realistic tram tracks turns: Change all roads with tram tracks max turn angle by the value set below if current value is higher
- Disable in editor (Recommended for road editor)
Modes
- Normal (Nrm): Unmodded road placement behavior.
- Ground (Gnd): Forces the ground to follow the elevation of the road. This also works downwards (sunken roads).
- Elevated (Elv): If the type of road selected has it, it forces the use of the elevated pieces, even at 0m and below.
- Bridge (Bdg): Same as elevated but with bridge pieces.
- Tunnel (Tnl): Create tunnels, underground or not.
Straight slope
- Makes the road go straight from A to B instead of following the terrain.
NOTE :
If you need anarchy with straight slope, use Fine Road Anarchy which integrate nicely within the mod's interface.
Shortcuts
Use Ctrl + Up/Down to change the elevation step (it goes from 1m to 12m).
Use Ctrl + Left/Right to change between placement modes.
Use Home to reset the elevation.
Use Shift + S to toggle the Straight slope option.
Known issues
Converting roads to suspended bridge doesn't work properly. Bulldoze and rebuild is required.
Source Code
GitHub:
https://github.com/SamsamTS/CS-FineRoadTool
Thank you for:
★ rating this mod
✍ leaving your impressions below
☞ supporting me with a
donation
[www.samsamts.com]
Created by
Download
Start automatically in 5 seconds
Click

here

if its not start automatically
Details
| | |
| --- | --- |
| Size | 0.059 MB |
| Posted | 23 Mar, 2016 @ 14:35pm |
| Updated | 28 May, 2018 @ 14:56pm |
| | |
| --- | --- |
| 494,764 | Viewed |
| 556,245 | Downloaded |
| 14,811 | Favorites |