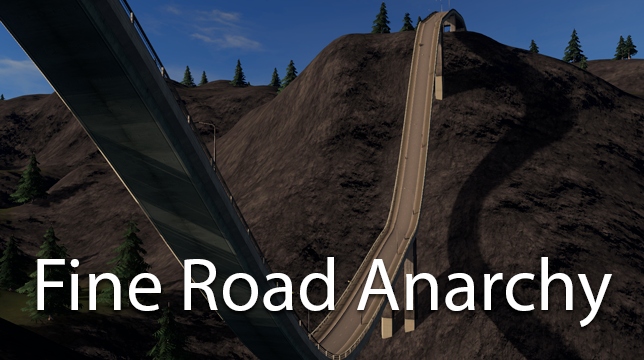 Description
Compatible with Cities Skylines 1.10.0-f3 (Park Life)
This mod adds additional options when building road.
Basically Sharp Junction Angles but compatible with Fine Road Tool and better behavior when anarchy enabled.
- Anarchy (Ctrl + A): when enabled, removes all the limitations such has the slope, the height or the collisions.
- Bending (Ctrl + B): when disabled the segments will no bend.
- Snapping (Ctrl + S): when disabled you can get much closer to other roads without snapping.
- Collision (Alt + C): when disabled the road will clip objects. Buildings and paths won't be bulldozed, pillars will always be built, zoning under elevated roads will remain untouched.
The UI integrate into Fine Road Tool UI if enabled. Otherwise it gets its own window.
This mod will disable Sharp Junction Angles as they are not compatible.
This mod won't break your save games, and can be safely disabled at any time.
Source code
GitHub:
https://github.com/SamsamTS/CS-FineRoadAnarchy
This mod uses
detours C# library
[github.com]
by cope. Without it, this mod would've been impossible to make.
Thank you for:
★ rating this mod
✍ leaving your impressions below
☞ supporting me with a
donation
[www.samsamts.com]
Created by
Download
Start automatically in 5 seconds
Click

here

if its not start automatically
Details
| | |
| --- | --- |
| Size | 0.722 MB |
| Posted | 18 Nov, 2016 @ 15:02pm |
| Updated | 24 May, 2018 @ 14:07pm |
| | |
| --- | --- |
| 581,309 | Viewed |
| 614,088 | Downloaded |
| 15,219 | Favorites |